His Exalted Highness Prince Mukarram Jah Bahadur, 8th Nizam of Hyderabad
Interviews and feature stories from American, Australian, British and Indian newspapers and magazines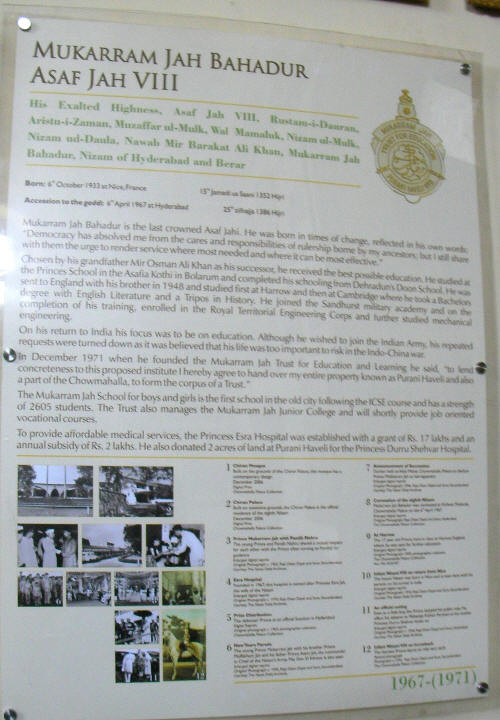 Chowmahalla Palace exhibit (above) - thrown open to the public in the past few years, Chowmahalla Palace is now one of Hyderabad's foremost cultural and historic attractions
H.E.H Nizam VII with his grandson Sahebzada Mukarram Jah, circa. 1930's & Prince Mukarram Jah on horseback (below)
Born 6 October 1933 in Nice, in France, Prince Mukarram Jah was the heir to possibly the world's biggest private fortune. The scion of two great dynasties, his maternal grandfather was the last Ottoman Caliph ('Abdu'l-Mijid II) and his paternal grandfather the 7th Nizam of Hyderabad (Osman Ali Khan), widely considered the richest man in the world during his lifetime, amassing a fortune worth a staggering US$210 billion in today's money ( http://en.wikipedia.org/wiki/Wealthy_historical_figures_2008 ). For centuries, the Nizams of Hyderabad had ruled over an area the size of France in southern India, initially governing on behalf of the Mughal Empire but later becoming independent rulers. Eventually, they became closely allied to the British, and were accorded the status of premier princely state in all of India.
Nizam VIII after his lavish coronation at Chowmahalla Palace in Hyderabad in 1967 (above). Chowmahalla Palace today, after loving and faithful restorations (below).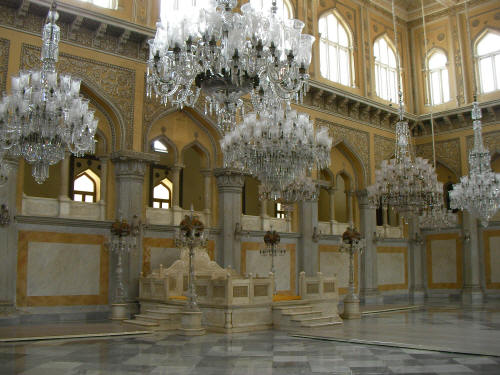 After Indian Independence in 1947, the Nizam refused to join the Indian Union. But his forces were no match for the Indian Army which invaded Hyderabad state in 1948, forcibly annexing the territory in an operation dubbed "Operation Polo". The kingdom of the Nizams was no more, but the 7th Nizam was nevertheless allowed to keep most of his assets, including his palaces, servants, and private fortune.
Prince Mukarram Jah was crowned the 8th Nizam of Hyderabad in 1967 following the death of Osman Ali Khan. In the 1970's when the Indian Government abolished princely titles, privileges and privy purses, the 8th Nizam took the momentous decision to settle in Australia, to carve out the life of a "gentleman farmer".
The Statesman (Indian newspaper) - September 1970 cover stories on the abolition of princely privileges - "Lok Sabha Votes Privy Purses Bill - Concept of Rulership Abolished" & "Princely Era Fades into History - President Withdraws Recognition - Immediate Abolition of Purses, Privileges"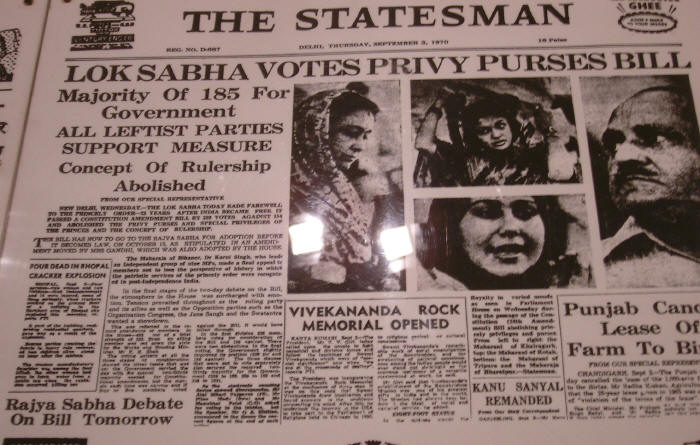 The 8th Nizam of Hyderabad's love affair with Australia began in 1972 when he visited the city of Perth in Western Australia for the very first time, and was attracted by the peace and quiet, the people, and the open spaces. A short while later, he purchased a half-million-acre sheep farm near the town of Kalbarri known as Murchison House Station (600km north of Perth). He met and married an Australian woman (Helen Simmons), who bore him two sons. In 1978 he acquired a luxury mansion in West Perth (known as Havelock House). Helen Simmons sadly passed away in 1989. Later, his sheep farm and Havelock House were sold off. The 8th Nizam or "Prince Jah" now lives unpretentiously in Turkey, preferring the "simple life" of the common man. His periodic visits to Hyderabad are eagerly anticipated by his innumerable loyal subjects. He and his first wife Princess Esra are universally admired for spearheading the comprehensive and costly restorations to the historic palaces of Chowmahalla and Falaknuma, preserving for future generations these glorious heirlooms of the Nizams of Hyderabad. In recognition of these efforts, Chowmahalla Palace won the prestigious UNESCO Heritage Conservation Award in September 2010, edging out tough competition.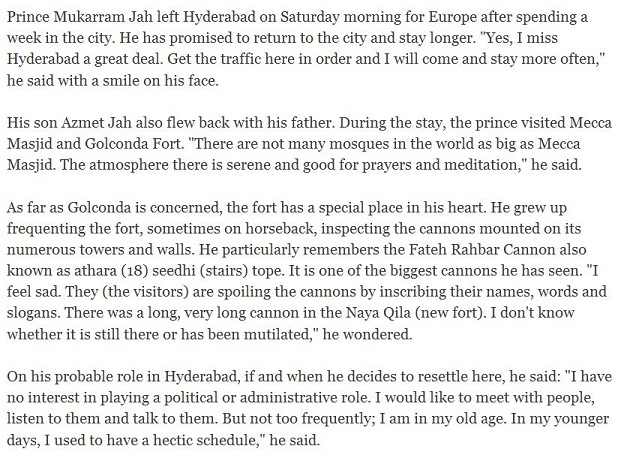 Whilst living in Australia, the 8th Nizam of Hyderabad granted interviews to a number of newspapers, some of which you may read below.
[ Nizam of Hyderabad's full title - Lieutenant-General His Exalted Highness Rustam-i-Dauran, Arustu-i-Zaman, Wal Mamaluk, Asaf Jah VIII, Muzaffar ul-Mamaluk, Nizam ul-Mulk, Nizam ud-Daula, Nawab Mir Barakat 'Ali Khan Bahadur, Sipah Salar, Fath Jang, Faithful Ally of the British Government, Nizam of Hyderabad and Berar ]
---
The New York Times newspaper (August 17, 1967) - "Ex-Employees of Nizam in India Protest Economy-Drive Ouster"

---
>> Click here to download a PDF file containing a selection of the Australian press articles displayed below <<
---
The West Australian newspaper (Friday, February 24, 1984) - "Meet Mr Jah: A princely fortune in his sights" & "The Two Lives of the Nizam of Hyderabad"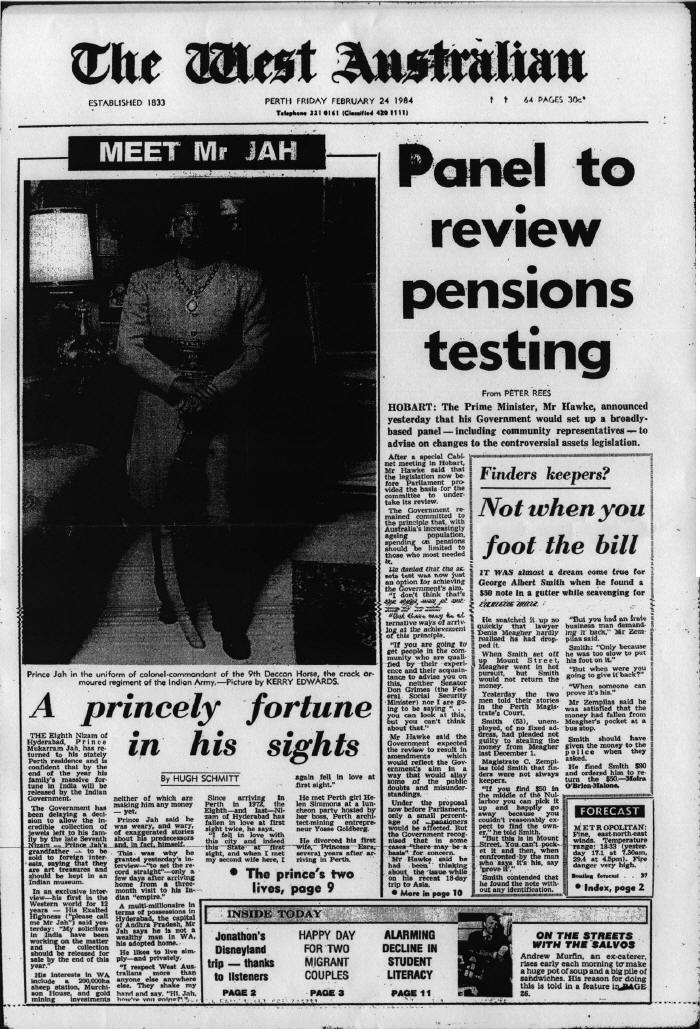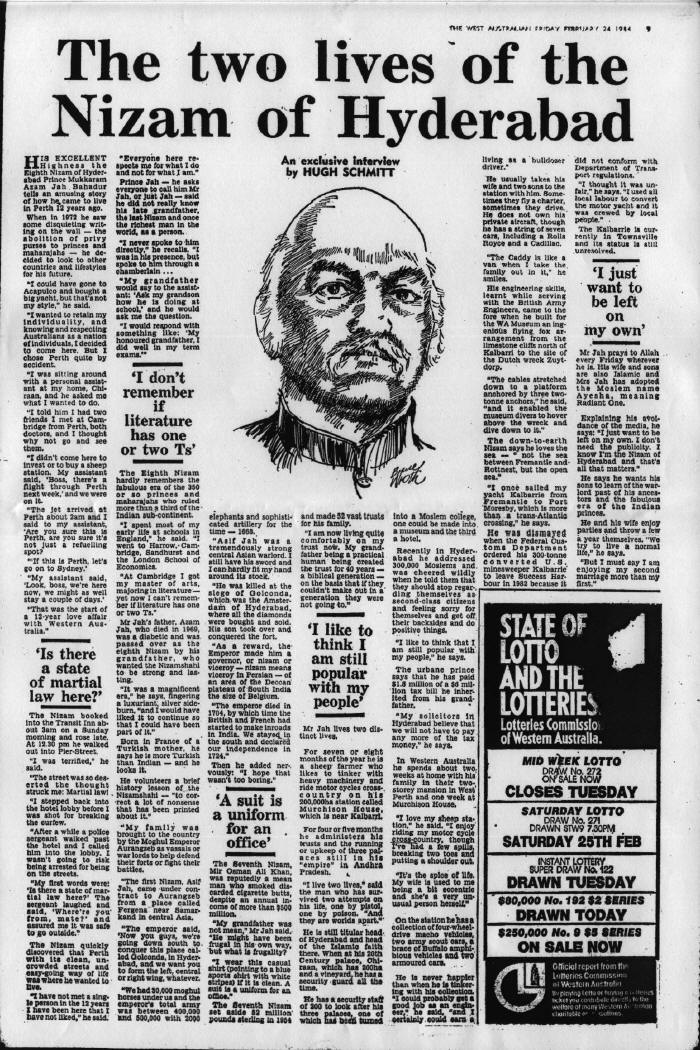 ---
Garden Living Western Australia (January 1987 edition) - "Princess of West Perth" - article about Nizam of Hyderabad's West Perth mansion (Havelock House) and his wife Princess Ayesha Jah (a.k.a. Helen Simmons)
---
The West Australian newspaper (Saturday, February 3, 1990) - "Nizam feels the squeeze over 'petty' claims" & "Even princes feel the pinch"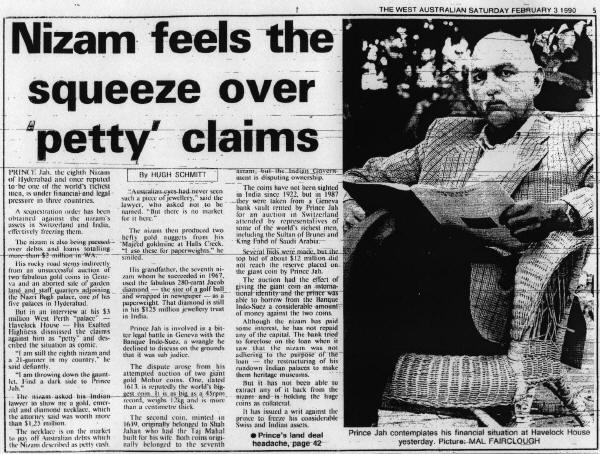 ---
The West Australian newspaper (Tuesday, October 30, 1990) - "Prince strikes at his critics"

---
Sunday Times (Perth) newspaper (April 4, 1993) - "AIDS death stunned prince" ; "A 'good bloke' turns his back on fabled Raj" ; "Prince prefers the simple life"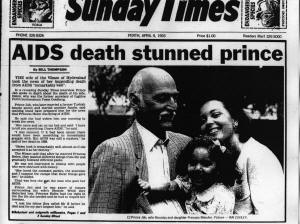 ---
Sunday Times (Perth) newspaper (April 16, 1995) - "Baby not mine: Prince" & "Prince prefers flies and a lonely station"
Prince Mukarram Jah liked to avoid controversy but the Australian tabloids had a habit of sensationalising events!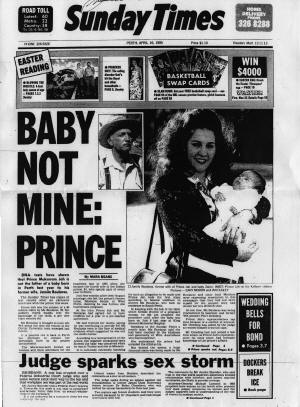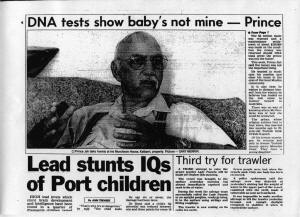 ---
Sunday Times (Perth) newspaper - "For sale - The Treasures of the Moguls"
---
Excerpts from Gregsons Auctioneers catalogue for auction on 1st December 1995 - "The Nizam of Hyderabad - The Chattels from the Havelock Street, West Perth, Ex-Residence" -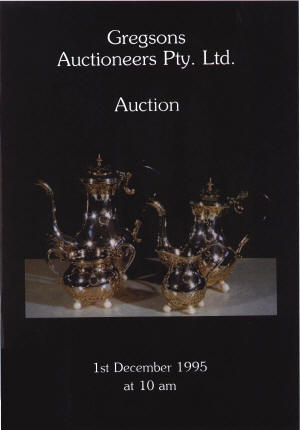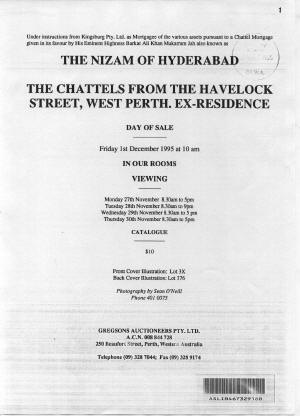 ---
The West Australian newspaper (Wednesday, April 16, 1997)
---
"Fairytale of the Aussie Princess Ends in Tragedy" ; "My AIDS Princess, by the Sheep Farming Mahajarah" ; "Not Quite Joe Bloe" ; "Image Worries for Thrice-Wed Prince" ; "The Life and Loves of Mr Jah"
Articles from Sydney Morning Herald & Sun-Herald - 1989-1994
"One calculation suggests that Jah's lifestyle since his arrival in Perth.. has cost him $20 million" - July 1992, Sydney Morning Herald
---
"ALL THAT GLISTENED"
By William Dalrymple
The Sunday Times (London) - November 15, 1998

---
RECENT DEVELOPMENTS - April 2008 newspaper articles on the Nizam of Hyderabad from the Deccan Chronicle and Times of India (Indian newspapers) -
"Deal to unlock Nizam funds" ; "Jah ex-wife Esra to lead talks for share" ; etc.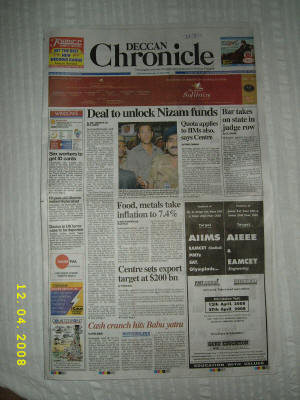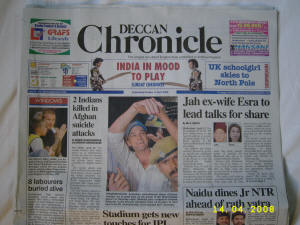 ---
HISTORICAL FLASHBACK - Death of the 6th Nizam of Hyderabad in 1911
The New York Times newspaper (August 30, 1911) - "Nizam of Hyderabad Dead - Premier Prince of Indian Empire Had Annual Income of $10,000,000"
Letter of condolence from the Viceroy of India, Baron Hardinge to Mir Osman Ali Khan, on the demise of his father, and offering congratulations on his accession to the throne
---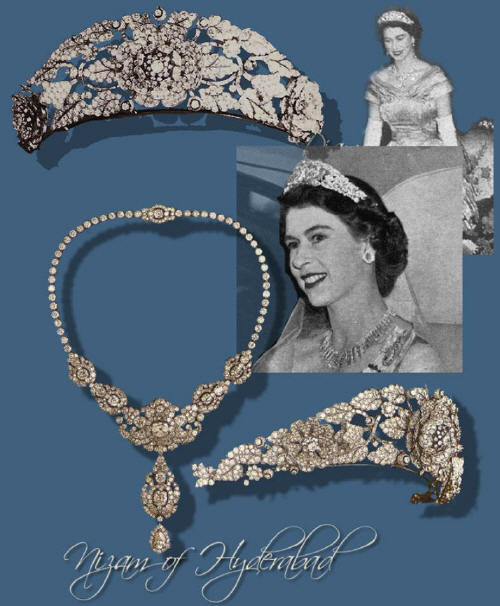 Nizam of Hyderabad Parure is a legendary Diamond Necklace and Tiara, a coronation gift from the Nizam of Hyderabad to H.M. Queen Elizabeth II of England. This wonderful tiara does not exist anymore. Made by Cartier and later broken up to be used in a new setting, in the Burmese Ruby Rose Tiara, crafted by Court jeweller Garrard.
---
A first-hand account of the 7th Nizam's Silver Jubilee celebrations of February 1937 by Yusuf Ali
(from "Searching for Solace - A Biography of Abdullah Yusuf Ali, Interpreter of the Qur'an" by M.A. Sherif, pp. 107-108)
"Under my rule there are no high and low, touchables and untouchables, and this has been the tradition of my House; rank and position depend upon virtue and merit alone.' - 7th Nizam's speech at Jubilee Hall in Hyderabad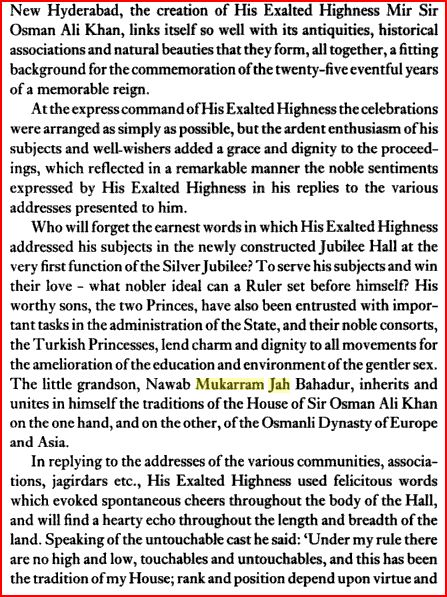 ---
Interesting links -


!! NEW !! EXHIBITION OF NIZAM OF HYDERABAD'S COLLECTION OF CARS AND CARRIAGES (now on display at Chowmahalla Palace)
* 8th Nizam of Hyderabad (Prince Mukarram Jah) on Myspace

* "In the Nizam's Dominions" by Bret Wallach (1984, Landscape magazine 28:1)
* Letter from Trustee of HEH The Nizam's Jewellery Trust to Frontline magazine (Vol 18, Issue 19, Sep 15-28, 2001)
* "Seeking the Nizam" - interview with John Zubrzycki (author of book The Last Nizam)
* "Battle rages as Nizam's fortune swells in UK bank" (24th April 2008, The Economic Times) - by Omar Khalidi
* "UNESCO Award for Chowmahalla Palace" (September 14, 2010, FullHyderabad.Com)
---
Additional resources -
Videos on Youtube:
* Rare colour film of coronation of 8th Nizam of Hyderabad in 1967
* Exhibition of jewellery collection of Nizam of Hyderabad including the famous Imperial (Jacob) Diamond
* Tour of Chowmahalla Palace, Hyderabad
* Purani Haveli Palace, Hyderabad
* Palace of the Nizam of Hyderabad in New Delhi (along with glimpses of New Delhi palaces of Jaipur, Bikaner and Baroda)
* Asmangarh Palace, Saroornagar Palace, Paigah Palace, Chiran Fort and other palatial buildings in Hyderabad
* Nostalgic look at Paigah nobility of Hyderabad state
Further references:
* Family tree of the Asaf Jahi (Nizam) dynasty
* The Last Nizam by John Zubrzycki (2006 biography of 8th Nizam) - free excerpts from Google Books
* The Deodis of Hyderabad: A Lost Heritage by Rani Sarma (with foreword by Prince Muffakham Jah) (2008)
* The Nocturnal Court: The Life of a Prince of Hyderabad by Sidq Jaisi and Narendra Luther
* Jewels of the Nizams by Usha R. Krishnan and Bharath Ramamrutham
* Official Chowmahalla Palace website (with recent photos of 8th Nizam and his family)
---
Prince Jah's converted minesweeper, reportedly the largest private "yacht" in the southern hemisphere at 377 tonnes, 41.5 metres (built in USA in 1954).
He named it "Kalbarrie" and spent 2 to 3 million dollars on refurbishment but it was sold off in the 1990's.
---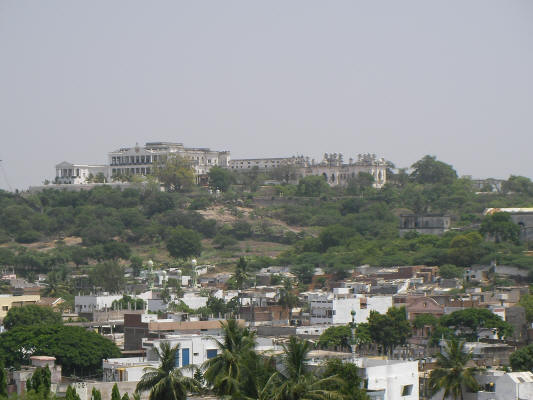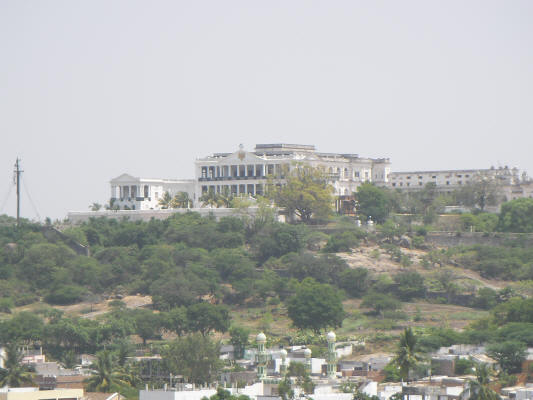 Some views of Falaknuma Palace in Hyderabad (2008) - perhaps the most opulent of the Nizam's palaces, it has been leased to the Taj Hotel group
and is being converted into a luxury hotel (scheduled to open February 2010)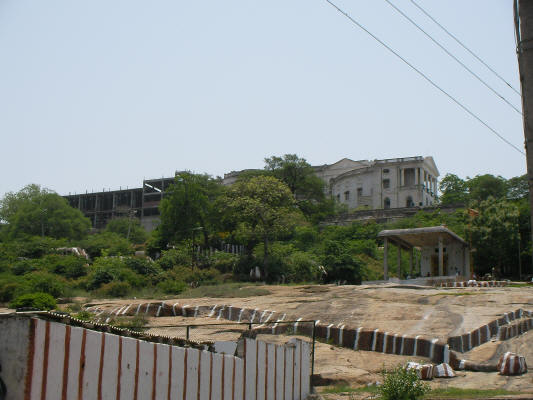 ---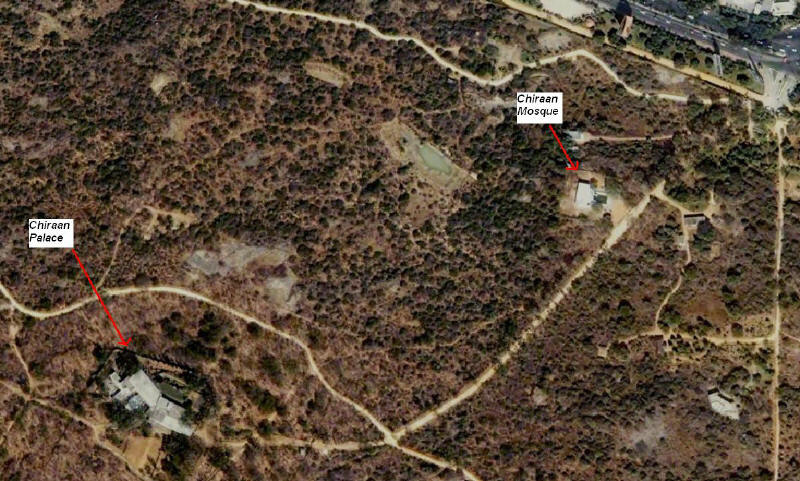 Above: Aerial view of Chiraan Palace and Chiraan Mosque in Hyderabad, built by Prince Mukarram Jah in 1960's on 400 acres of land in Jubilee Hills.
The wooded estate has since been converted into the KBR National Park, but Chiraan Palace remains the private property of the 8th Nizam.
(It is not to be confused with the Chiraan Fort Club in Secunderabad)
Below Left: Chiraan Mosque - the 8th Nizam offers prayers at this mosque when visiting Hyderabad. The design is unique - there are no sidewalls or
intermediate pillars, the entire roof weight is borne by arches in the front and back. Jah chose a design for the arch which resembles an aircraft wing.
Below Middle: Vintage Fiat bearing insignia of the 7th Nizam stored in the garage of Chiraan Palace
Below Right: Vintage Rolls Royce stored in the garage of Chiraan Palace
---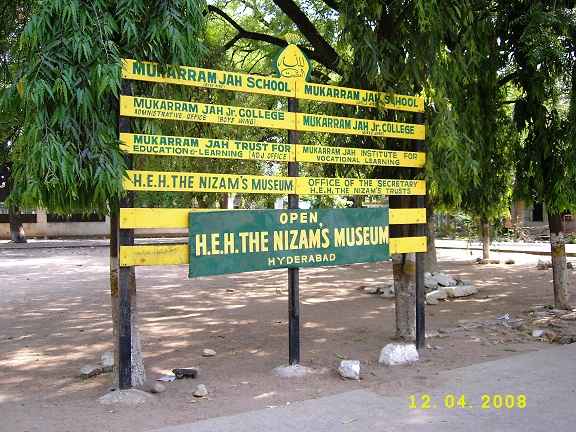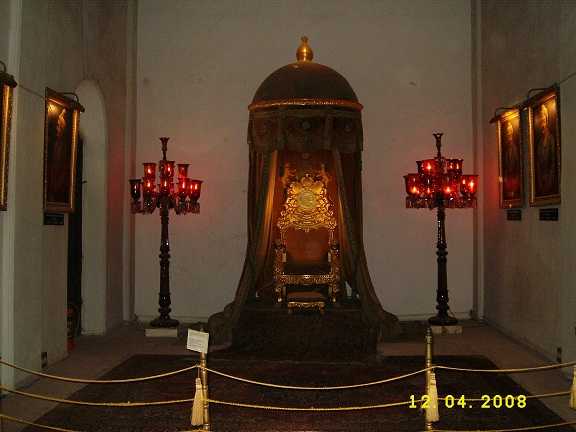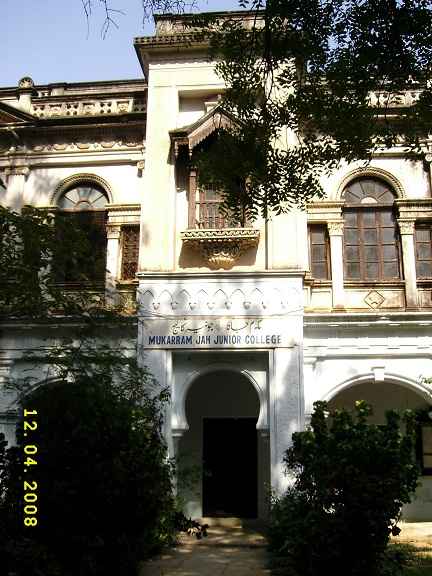 ---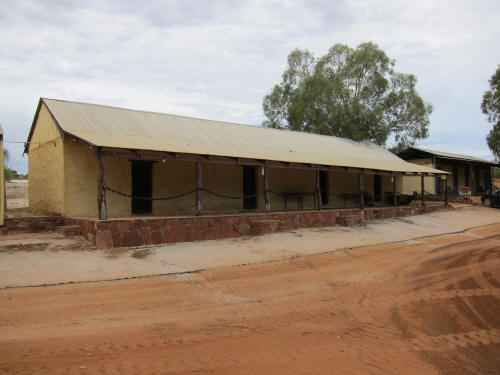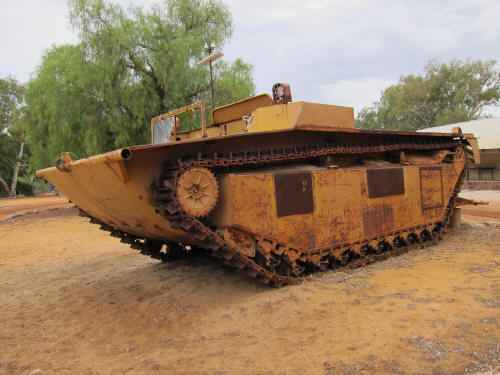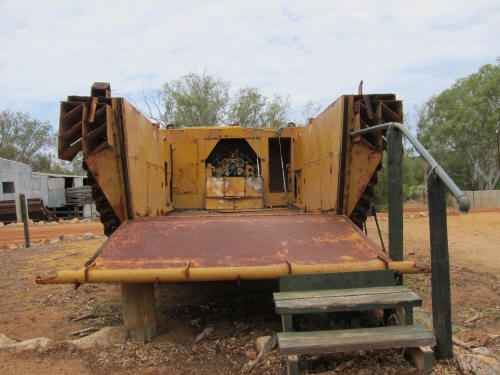 Above: Murchison House Station (January 2013), an enormous farming property near Kalbarri, Western Australia, once owned by Prince Mukarram Jah. Some of the military equipment he collected is still on display.
---
THE JEWEL IN THE CROWN SHINES BRIGHTER THAN EVER
LATEST NEWS!! The painstaking renovations to the Taj Falaknuma are complete and the Palace will throw open its doors in February 2010!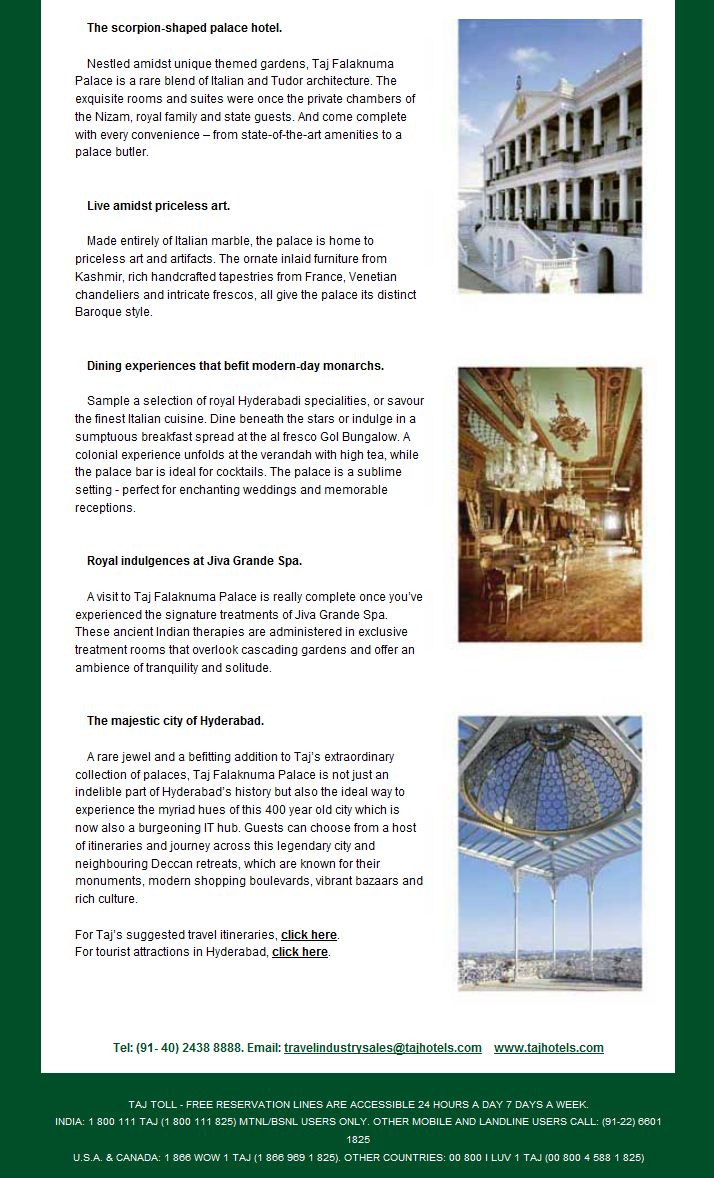 ---
---